Yellow Mountains and Ancient Villages Photo Tour
This tour covers 1-5 days itinerary, including almost all best of Guilin photography locations and activities, sunrise, sunset, karst mountains and rivers, rice terraces and rice fields, ancient towns and villages, local people potraits, and cormorant fishermen photography.
You can get inspired from the following itineraries that most of my customers took. You can also use the tailor-making form to tell me what your preferences are, I will design a Guilin photography tour with your interests and pace. All tours are private and guided by local experienced photo experts.
Why Join Our Photo Tour?
1 PHOTOGRAPHER designed this tour
2 PHOTOGRAPHER guide this tour
What does a photographer guide mean for the tour?
A photographer guide will take you to the unique spots, find the different angles, help you on camera settings and composition, interact with local minority people, you will bring home with portfolio shots.
Photo Tour Itinerary
Day 1

Xidi & Hongcun Ancient Village
Drive one hour from downtown, we are going to visit the two ancient villages Hongcun and Xidi, both of them are listed as UNESCO'S World Cultural Heritage Sites.
Hongcun has been named "a village in the Chinese painting" with 800 years' history. One of the locations for the Oskar-awarded movie "Crouching Tiger Hidden Dragon". It is a perfect place for traditinal houses and reflections shooting at anytime.
Xidi is an ideal place to see typical Anhui-style houses where residents have lived there for centuries. It will give visitors the rare opportunity to explore China's ancient culture and arts of architectures. Shoot the unique roofs.
Day 2

Yellow Mountains
Starting from your hotel in downtown, drive to Yellow Mountains (70 min drive from downtown to parking lot, 20 min drive by shutter bus, and then 20 min cable car). Cable car is good chance to enjoy the scenery and pine trees from above.
The guide will take you to visit Shixin Peak first, and many other photography spots on the way, shoot amazing rocks and pine trees.
Lunch in the hotel. Going to Lion Peak, one of the best locations for rocky mountains and valley photography. Expecting to shoot sunset or mist in the valley.
Day 3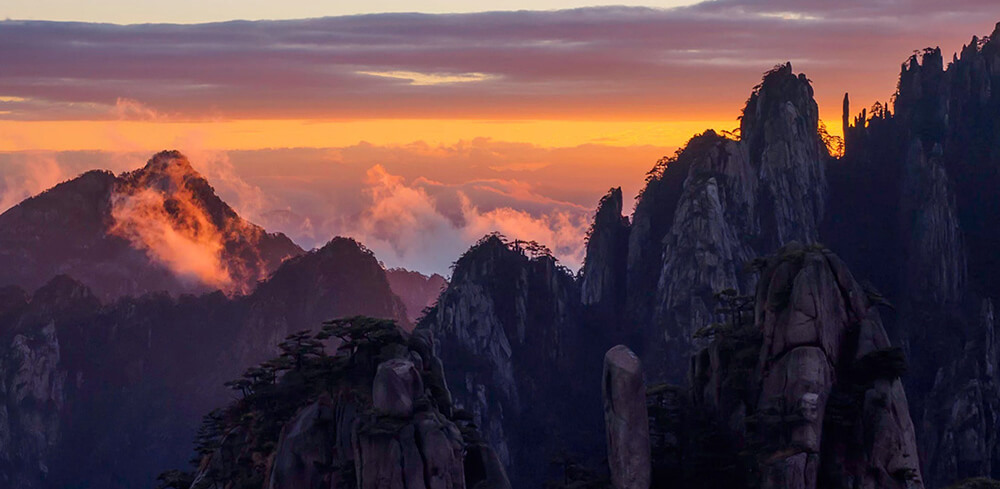 Yellow Mountains
Starting at 5am, climbing the Lion Peak to shoot sunrise and rocky mountains.
After breakfast, moving to the next big photography location: West Sea Grand Canyon. The complex place for rocky mountains, sea of clouds, pine trees, canyon, and birds photography.
Take some amazing shots in Cloud-Dispelling Pavilion, an ideal spot to shoot the stone forests and U-shaped valley. Then walk down to the bottom of the canyon in one hour, shoot spectacular rocks in a very short distance.
After a short break in the next hotel, walking to a cliff-side to shoot the rocky mountains and stone forest at sunset. The most possible place to photograph the sea of clouds.
Day 4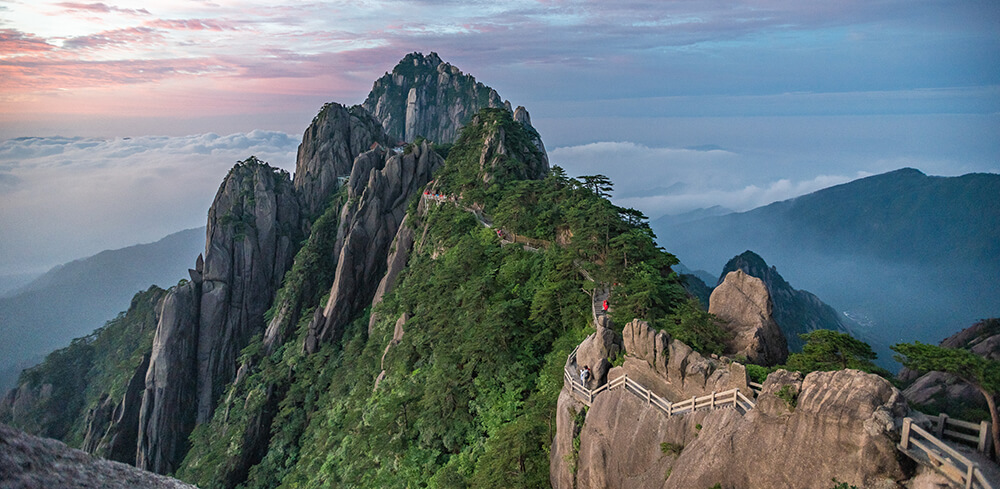 Yellow Mountains
Spending one more day in the Yellow Mountains, shoot one more time of sunrise and sunset. Because of unpredictable weather on mountain top, it is very necessary to spend more days to get best shots of Yellow Mountains.
Explore more photography spots in the day, including Bright Summit, Purple Cloud Peak, and Lotus Peak.
Back to downtown and departure.
" We have no office staff - Mercier Zeng will answer you directly! "