Huangshan Photography Tours Planning
Traveling is an enjoyable thing, but it is complicated to get the plan. I'm trying to provide all related information here to make it easier. It is involved in where to stay, what to eat, best time to travel, what you'll shoot in different weather or season, lenses suggestions and more.
Huangshan (Yellow Mountains) can be divided into five scenic areas:
The south of Lotus Peak and Celestial Capital Peak is Nanhai (South Sea) Scenic Area, also called Qinhai Scenic Area
The north of Lion Peak and Begin-to-believe Peak is Beihai (North Sea) Scenic Area, also called Houhai
The east of White Goose Ridge Station is Donghai (East Sea) Scenic Area
The west of Purple Cloud Peak and Flying-over Peak is called Xihai (West Sea) Scenic Area.
The area around Bright Summit is Tianhai (Heavenly Sea) Scenic Area, located in the center of all the scenic areas.
Bright Summit, together with Lotus Peak and Celestial Capital Peak, is with an altitude over 1800m. Getting atop of the three peaks, you could catch all the beautiful scenery of the five scenic areas.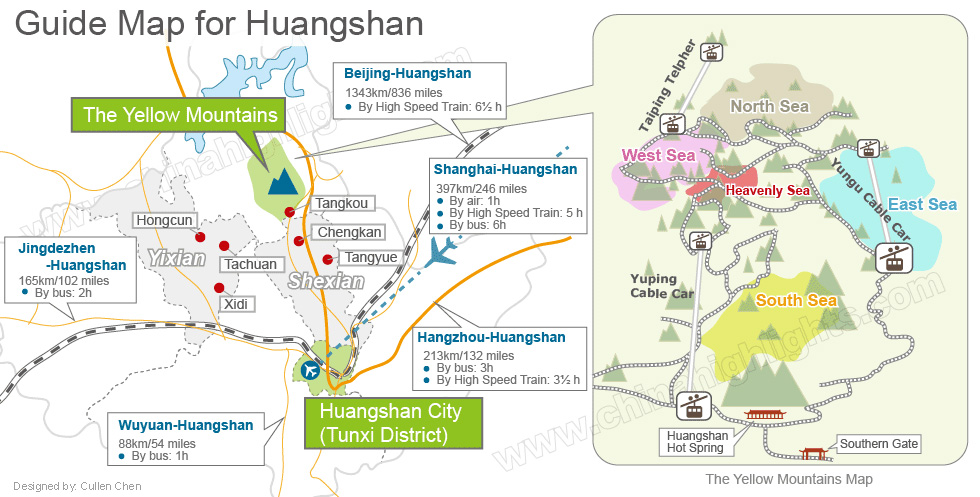 Source: www.chinahighlights.com
Best Season for Photography
Summer: Sea of clouds
Winter: Snow mountains
Yellow Mountain changes its color and appearance with the alternation of seasons. It is hard to say the best season for photography in Mount Huangshan. Different season has different subjects. In spring, the mountains feature various colors, the flowers blossom and the streams gurgle through the quiet valleys. In Summer, it turns a green world and photographers shoot peaks rising one upon another. In Autumn, the mountains dress in red and golden. In winter, Mount Huang turns into a world of frost and ice with silver boughs and rocks in all the scenic areas. There are about 50 days in a year capped by snow. The first snow begins in the late November and and last snow may occur in the late March.

Tips for Clothing
It rains a lot in summer and sometime there are thunderstorm. In the bad weather, you'd better not seek shelter under the trees or hold iron chains. While, there are much snow and rain in Winter. It is better to wear sneakers of grass shoes to prevent slipping, in the meantime, do not forget the walking-stick and gloves.
Lenses Suggestions
What you are going to shoot, and what lenses you need to take.
In Huangshan (Yellow Mounatains), you will shoot landscapes (rocks and pine trees in the cliff), sunrise and sunset, people portraits, even birds.
For landscapes, you need a wide-angle lens and zoom lens (70-200mm is good).
For sunset and sunrise, you need a GND filter.
For birds shooting, you need an over than 300mm telephoto lens. The birds won't be too far from people, but longer zoom lens is always practical. For most of people, I guess you don't have telephoto lenses, we can help you to rent a good lens from local shops. Here is the price list for different lenses rental.
Lenses
For Camera
Price (USD)
Extra day charge
Deposit
300mm F/2.8
Nikon
50 per day
50
3000
70-300mm F/4.5-5.6
Nikon
80-400mm F/4-5.6
Nikon
30 for 3 days
5
760
150-600mm F/5-6.3
Nikon/Canon
35 for 3 days
6
1350
200-500mm F/5.6
Nikon
40 for 3 days
6
1100
200-400mm F/4
Nikon/Canon
100-400mm F/4.5-5.6
Sony/Canon
30 for 3 days
5
360/2400
70-400mm F/4-5.6
Sony
40 for 3 days
6
1800
400mm F/2.8
Nikon/Canon
400mm F/4
Canon/Sony
500mm F/4
Nikon/Canon
600mm F/4
Nikon
800mm F/5.6
Nikon/Canon