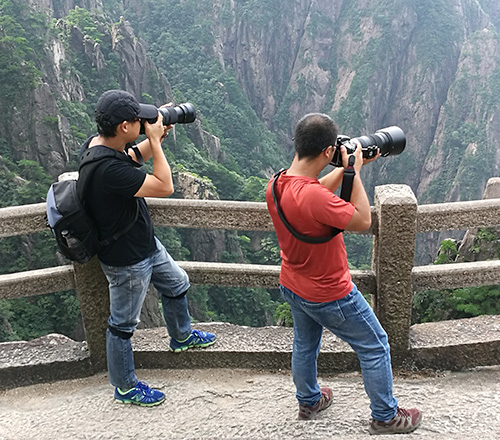 Our Story
I'm working as a marketing manager and webmaster in a very reputable travel agency - China Highlights (www.chinahighlights.com) since 2008.
All people came to Guilin and were shocked by its amazing landscapes. However, most of people travel in a tourist way, it's not so bad but a feeling hard to say. I witness that they were strugglling and looking for their guides in a thousands of tourist crowd; visiting the ancient towns with kinds of souvenir shops; having dinner in a noisy tourist restaurant, and many cases like these.
I wish people come here can go off the beaten path to experience the unique beauty of Guilin, go into a local's family and get to know a normal Chinese daily life. You can not get inspired in tourist land, only photography can make you go deeper and stay cool. That's why I made Mercierzeng.com and to be a photography guide. I'm helping you also make me understand this land further, and love it more.
What Makes Us Different
As a tour guide, I'm familiar with the places; as a driver, I know where to stop and which the right route is; as a photographer, I know when the best time is and where the best positions are. Now to be a photography guide, I can easily catch your interests and make it happen. That's what Mercier Zeng do.
Create A Unique Trip by Listening to You
All my photography trips are customized depending on your insterets and photography level. You can take things at your own pace. Get up early, stay out late, take time over sight-seeing or dinner – it's up to you. I will ensure you get the trip you want.
Normally, I drive my car. We can stop anytime and anywhere, that's exactly normal tourist car drivers won't do, they complain if get up too early; even refuse to go extra places.
Local Expert Knowledge
Wang Jun has worked in Huangshan tours with his team for over than 10 years. They step on every corner of Yellow Mountains, know the best photography spots, know how the weather goes every day, and how to avoid tourists crowds.
Take the Amazing Photos as You Expected
People plan a Guillin photography tour, as they saw some amazing photos of Guilin landscapes and nice people from internet. They choose me, because I'm a real local photography, and I have great photos on my website. Just let me know what you want and you will get what you want.
Coffee Time On The Way
Photography is indeed a tough work. Get back to the hotel almost 11:00 pm, and get up for sunset at 3:00 am, I know you are really tired and longed for a cup of coffee. I'm sure no coffee shop opens at that time, even don't mention on the top of mountains.
However, you can enjoy your coffee time while waiting for sunrise. Mostly, I take the instant coffee and a big bottle of hot water along with the car. Just let me know if you need it.